UPDATE:
Lindsay's rep just released the following statement:
Lindsay worked a grueling schedule the past few days. She was on set last night at 7 pm and worked through the night until 8 am this morning. She took a nap before shooting her final scene. Producers were concerned when she did not come out of her room and called paramedics as a precaution.

Lindsay was examined and is fine, but did suffer some exhaustion and dehydration. Lindsay was never taken to a hospital; reports to the contrary are false. She is resting now and is hoping to be back on set later this afternoon."
Lindsay Lohan found unconscious in hotel…
transported to hospital…
Friday, June 15, 2012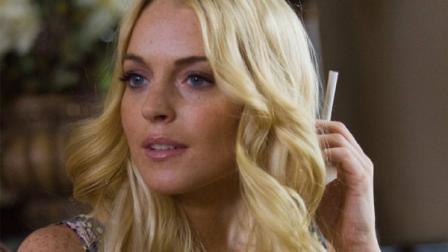 Lindsay Lohan appears in a still from the 2010 film, 'Machete.' (Twentieth Century Fox Film)
MARINA DEL REY, Calif. (KABC) – Lindsay Lohan has been transported to a hospital after she was found unconscious in a hotel room, Eyewitness News has learned.
The Los Angeles County Fire Department got the report at about 10:15 a.m. (2:15 EST) Friday.  The actress was found unconscious in the penthouse of the Ritz-Carlton Hotel in Marina del Rey.
The "Mean Girls" star is currently filming a movie in the area.
DEVELOPING…We will add more details to this report as they become available.
NOTE:  Lindsay in BIG trouble!!  And… she knows it!
Lindsay's latest car "accident" occurred one week ago, June 8… KABC reports: