There's a feud between Ramona Singer's husband, Mario, and Jill Zarin.
It started at the beginning of the month, when Jill began making remarks about Ramona drinking Pinot Grigio during filming of this season's Real Housewives of New York and attempted to paint Ramona as an alcoholic, which Ramona firmly denied. See Ramona talk about RHONY, Jill and being an 'alcoholic'… here.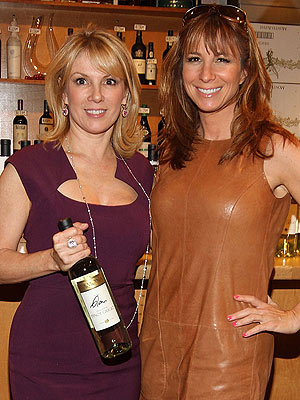 I'm sellin' Pinot, so of course, I'm gonna drink it! Doesn't make one an alcoholic!
Over the weekend, rumors swirled that Mario and Jillz had words and Jillz claims that Mario shoved her. Jillz said…
"Last weekend, he shoved me. I was at a friends house for a dinner party," Jill said of Mario, who also attended the premiere. "I was on line for the buffet … and Mario started screaming at me, uncontrollably. And then he pushed me – he shoved me with his hand. He was blaming me for his wife coming off badly on the show. He repeated things he thinks I said that he didn't like."
Maybe this feud has been going on a lot longer than just this past month. This video is taken from the Real Housewives of New York, season two, episode two, with Jillz threatening to 'punch Mario out'…