June 13, 2011  2:41 pm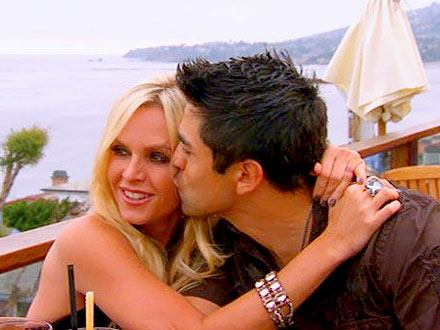 OH!  So in love!  … Really???

Real Housewives of Orange County's Tamra Barney moved on from her estranged husband Simon Barney and has gone public with boyfriend Eddie Judge.  Eddie is being accused of turning his back on his family in their greatest time of need.
"My daughter is six-years-old and has Prader-Willi Syndrome so she needs therapy and we have a lot of medical bills," said Eddie's sister, Shalimar Torres. "When I asked Eddie to help out he said, 'She's your daughter so that's your problem.'"  (Prader-Willi Syndrome makes the child always hungry… here.)
Shalimar says that Eddie, who is 12 years her senior, was born in Mexico and later moved with their mother to California. "After my mom had me she took off and left us," Shalimar said.
                                                                                                      Tamra and Eddie… Eddie certainly loves the camera, maybe more than he loves Tamra??
"We grew up with my grandmother but got taken away when she got too old. My grandma now lives off of a fixed income and she has diabetes," Shalimar said. "For her it's either food or medication and when we ask him [Eddie] for help he'll come a few weeks after the fact and buy her some groceries.

"When Eddie was a teenager he met this man who gave him odd side jobs and he eventually took Eddie in and became his foster dad," Shalimar disclosed. "That's when he changed his last name to Judge.
                                                                                      When Tamra was a teenager with baby Ryan…

"Our younger brother came to live with us until he was 18 and then moved in with Eddie. He didn't care too much to help him out or be there for him, or just to talk to him since we didn't have anybody," Shalimar said. "Eddie was so verbally abusive to him."
"It's amazing how he [Eddie] can just turn his back and act as if he never knew us or we're not blood," Shalimar said. "But he's donating and helping out strangers in other countries acting like he's such a good guy when he's not."
                                                                                                  Tamra says that she and Eddie will be married within a year… Tamra said that on March 24, 2011.  Will that happen?  Nah…
How did Tamra and Eddie meet?  
Shalimar says it was originally staged by the production team of Real Housewives of Orange County…
"When everyone was having a hard time because of the economy the show wanted to make it look like Tamra was trying to downsize so they met through her realtor," Shalimar said. "They came and asked if they could use our house to make it look like Tamra was interested in buying it.

"Soon Tamra started coming over to have lunch with Eddie and then they pretty much started dating. When she met my brother she was still married," Shalimar concluded.
Tamra confirmed that she started dating Eddie in February of this year, just less than two months after her husband filed for divorce.
NOTE:  Why would a single, grown man 'foster' an under 21-year-old as Mr. Judge did with Eddie Torres?  Interesting that as of today, I have yet to find a photo of Mr. James Judge, Eddie's 'foster' dad.  Not even on his law firm's website… here.  
Mr. Judge was admitted to the CA State Bar in 1985, which would make his present age around 60-years-old.  
SH post of March 24, 2o11… here.