The Real Housewives of New Jersey's new season is premiering next week (May 16) and like all the other Housewives who have a sideline business, Teresa Giudice Tree Joo-dice has published her new cookbook recently to take advantage of the publicity surrounding the RHONJ premiere episode.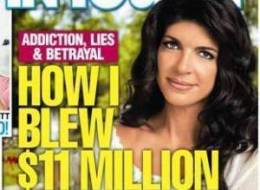 Teresa Giudice  Tree Joo-dice has vowed to make good on every dollar of her $11 million worth of debts.   After she's accepted into the astronaut training program… 
Tree has gotten some flack for arriving late and grouchy at her book signings (here), but she made it to Winnetka, IL and even gave the local paper an interview here.
One of the tips she gave the local paper was this one:
"One tip inside the book was to flirt with the butcher. Do you do that and how does Joe feel about it?   "No, it's just a funny thing.  Anytime you go into a grocery store, everyone's pretty nice, especially at the butcher shops, you know the pork stores. In New Jersey, there's a lot of pork stores."
Yeah, Tree, there's a lot of pork stores in New Jersey.  They come in handy for cutting up 'meat'…
                                        Did you see that big-haired, bug-eyed Italian woman this morning that said she was on some frickin' TV show?  She was tryin' to get all cozied up wit Sal here to git some free pork chops…
Other tidbits loyal viewers will learn in the book from her cookbook:
>She lived with her parents until she moved in with her husband Joe.  (That don't mean that they didn't spend every night together since they were in high school… )  Her parents still come over to her house almost every day.  (Come on, Tree!  Everyone knows they live in your basement…)
>Nine-year-old Gia, who doesn't have a middle name, has been to Italy three times and her favorite city is Milan because of the fashion.  (Uh, huh… nine-year-old Gia is such a fashionista.  The poor girl can barely pronounce the name of the country… she calls it 'Spain.')
>Gabriella, 6, has a pink, Paris-themed room with poodle pillows.  Milania, 4, likes to play with her year-old baby sister Audriana and even wakes her up from naps to play
(Who cares…)
>Joe calls her Tre (sounds like Tree) and her parents call her Tere (like Tah-RAY).  (Makes no sense at all…)
>Her pet names for her kids are baby doll, pookie, gorgeous, sweetie and honey.  (Other names include:  homely, trolly, drippy, el dente, flaky, donkey, cannoli and dimwit.)