The most incredibly fascinating minute of the Real Housewives of Orange County was when Peggy Tanous was being fitted for the dress she would wear in the upcoming fashion show.  Peggy's new boobs were huge!  Tamra said Peggy's boobs were enormous and she should know, she was there when Peggy walked out with her brand new accessories jutting out of her dress.
                      Do you think Mommy needs new breast implants, London?  You do?  OK… then Mommy's gonna get some new boobies, just 'cause you said so, London. I won't pay the mortgage for the next six months, but I will get those new boobs… just to show how much I love my lil London.  OMG!  London… you touched your lip with your bare finger!  Micah!  Take London to the hospital now… she wasn't wearing her anti-bacterial gloves and she touched her own lip!!!  Call an ambulance… quick!!!    Micah!   OMG!… London's laughing… she's going into allergic shock!!!  
Peggy's boobs were the first topic of conversation on the Watch What Happens Live! show that followed RHOOC on Sunday night.   Rachel Dratch and Cheyenne Jackson (he was great in Xanadu… and I still cannot believe he is gay!) were discussing Peggy's boobs even before WWHL began and then they were still talking about them when Andy started the show…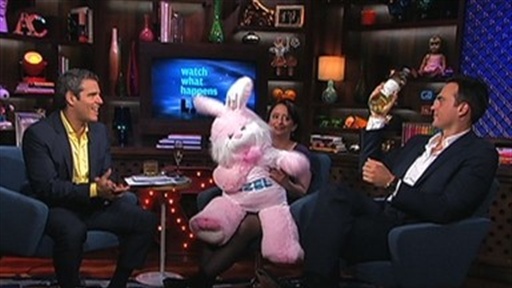 Cheyenne won the bunny and the booze for his vast knowledge of all the Housewives, but he gave Rachel the bunny for her lil boy…  Aw, Cheyenne…
They were so huge that I was compelled to freeze my screen to make sure that what I was seeing was real and not the result of a wardrobe malfunction on the part of the designer.
You can see more of Peggy's ginormous boobage here on the SH Facebook page.  
Yes, SH has a Facebook page… its title is "Stoop Housewives" because Facebook does not think that "Stoopid" could possible be someone's first name.  I'll bet that there is someone in the US that has "Stoopid" as their first name.  If there are 228 people in the US… and this is a fact… with the first name of "Velveeta" and 5 with the first name of "Dirrhea," I'm sure there are a few "Stoopid" out there!