Tamra and Eddie blissfully happy.   Uh, Tamra, what does Eddie do?   He's a judge.   That's his NAME, Tamra… what does he do??    Yeah, I know…he's a judge.    Oh my god…just forget it…
One question that has remained unanswered is that of Tamra's new boyfriend, Eddie Judge, and that question is:  What exactly does Eddie Judge do? A recent commenter on SH "cleared up" that question by stating that Eddie is an attorney.  LOL!   Eddie was last connected somehow in real estate, but hey, maybe the commenter was correct; however, the California State Bar Association is not in agreement… there is an 'Edward Judge' practicing in San Francisco and there is an 'Edward Torres' (Eddie's birth name) practicing in Pasadena, but there is no Eddie, Edward, Ed, Edard or Eduardo Judge or Torres practicing in or around the Orange County, CA area. There is The Judge Law Firm in Irvine, which is Eddie's dad's law firm… here.  But, there is no information re staff.
Therefore, when it comes to Eddie Judge's occupation, hopefully Tamra will ask him before they get married and have all those little Eduardos…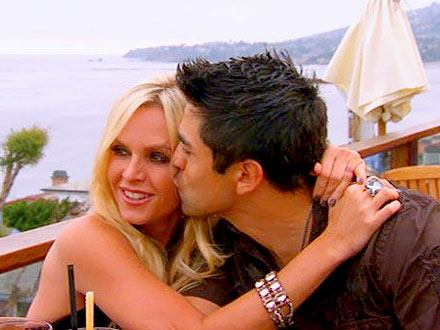 What do you do all day, Eddie?    I'll tell you later, baby.  Right now I just like to kiss you so I can be on RHOOC…
The following written by LBG1… in which he/she brings up some very interesting questions about the Real Housewives of Orange County.
"It is just me or has anyone else noticed a 'Sex in the City' vibe going on in season six of Real Housewives of Orange County?   One of the unintentionally funny scenes this season, Tamra Barney gushing to Vicki Gunvalson–the Cabo trip–Tamra and Eddie made love for FIVE WHOLE HOURS to Lady Gaga, the longest, according to Tamra, she's ever made love.   One could imagine Samantha from Sex in The City with Tamra and Vicki and Samantha's reply: 'Five hours? I've made love for 24 hours and that was just the appetizer.'
Which leads to Tamra and Eddie's trip to Spain.  Since Eddie Judge is an enigma–no one seems to know what Eddie's occupation is–and Tamra isn't exactly flush with cash, the mystery of who paid for the trip?  Was it Eddie, Tamra, or was it the Bravo production crew who went with Tamra and Eddie?  (Of course, Bravo picked up the tab…)
After the episode aired comedian and actor Jay Mohr appeared on Andy Cohen's 'Watch What Happens Live' with RHOOC cast member Peggy Tanous.  Jay told Andy he'd hooked up with Gretchen Rossi and Slade 'Smileypants' Smiley at a club. Jay also told Andy, Gretchen and Slade said something about Eddie being 'gay' which was a surprise to Jay who told Andy that Slade is the 'most sexually ambiguous guy I've ever met'. (See WWHL video Part I… after 'Archives' on SH homepage.)
Peggy was shocked to hear BFF Alexis Bellino's catty remark about the size of Peggy's new breast implants which Peggy proudly displayed on WWHL.  (What wife wouldn't want her husband in the OR giving advice on what size of implants and their location.) Super-cool Micah, Peggy's husband, gave Peggy a pair of major bling earrings in the recovery room. (But SH readers all know he probably took them back, 'cause her house is in the foreclosure process and he better be saving money on a place to live…) On WWHL, Peggy explained the implant replacements were necessary after one of the implants had 'torn away from the muscle'.  (See WWHL videos with Peggy Tanous/Jay Mohr Part II on right of SH homepage after 'Archives')
From November 20, 2008… Tamra's listing mentions that Tamra is a real estate agent…  what the hell does Eddie do????
Real Housewives of OC house — Tamra Barney
3 Pointe Circle, Ladera Ranch, CA
For sale: $1,599,000
Tamra Barney, who happens to be a real estate agent, has put her house on the market.  Tamra is the listing agent of the house and wants to sell for a little more security and privacy, plus to take advantage of this down market. "We'd (like to) pick up a foreclosure, or a vacant lot — wherever. We know we can get a hell of a deal," Tamra told the OC Register.   Update:  Tamra's house sold for $1,120,000 in 2009 in a short sale.
How Tamra met Eddie:  http://stoopidhousewives.com/2010/12/13/the-rhoc-shell-game/#comment-2181