Real Housewives of Beverly Hills beauty (everyone is entitled to their opinion…) Taylor Armstrong and her husband, Russell, showed signs of strain in their marriage on the Bravo hit show and now RadarOnline.com has exclusively learned the couple is in therapy.  Audiences watched the first season of the show as the pair seemed to become more disconnected and a source close to the situation (Shana/Taylor) tells RadarOnline.com that the couple is trying to work through their issues with the help of renowned psychiatrist, Dr. Charles Sophy.
And while the couple takes steps to repair the breakdown in their marriage, we're told several of the sessions with Dr. Sophy will be filmed for the upcoming season Real Housewives of Beverly Hills, although Russell is not quite as receptive to the cameras as Taylor.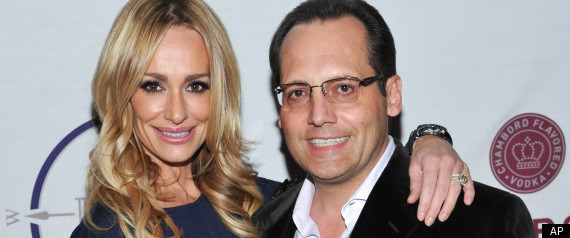 "He's so much different at home without the cameras."  
"Dr. Sophy has seen Taylor and Russell together, and separately.  Some of Taylor's sessions with Dr. Sophy will be filmed and featured on the second season.  Russell hasn't decided yet if he wants to participate on camera.  Russell comes across on camera as being very aloof, and reclusive, that just isn't who he is.  Russell wants to work to improve the marriage, it just isn't Taylor, which is a very, very good sign for the future of their marriage."
                                              I will go anywhere, do anything as long as it's photographed or filmed, but you are required to publish all images.  If my projected goal of making people think that I am everywhere at all times is not met, I will consider a sex tape; however, Russell is camera shy, so I will be auditioning older, silent guys for his part.
The Armstrong family also welcomed a new addition into their home and their daughter, Kennedy, couldn't be happier about it.  "Last season, viewers watched in horror as Russell bought Kennedy, a puppy, named Snowball. Yet, Kennedy was extremely allergic to the dog, and Taylor decided that Snowball had to go. There were a lot of feelings of anger because Taylor felt that she was the bad guy for giving the dog away, and Russell hadn't consulted her before buying the dog. They wanted to get Kennedy another dog that she wouldn't be allergic to. They recently adopted a Chihuahua and named her Jax. Kennedy isn't allergic to the new dog, and she loves having a puppy in the house," says the source.
Source:   here.