The Real Housewives of Atanta Season Three finale was a total snooze fest.  This super-sized episode could have been cut to 15 minutes and still have been called super-sized.
Cynthia's wedding 'drama' was drawn out unnecessarily to the nth degree… will she or won't she?  Does her sister and mother see something that Cynthia doesn't see?   Is Peter worthy of Cynthia?  Will Cynthia be a runaway bride???  Besides the wedding, there were some loose ends that were tied up on this frail finale…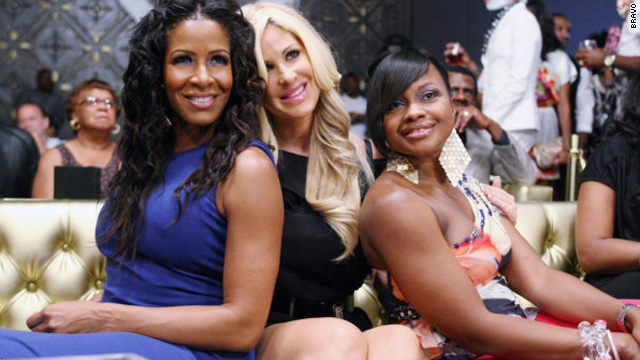 Sheree, Kim and Phaedra… ready for Lawrence's debut
Lawrence can not only sing, but is a fabulous performer.  Everyone came out to see his debut for "Closet Freak."  Phaedra, Cynthia, Kandi and her mother, Kim, Nene (draggin' along big-time scammer Diana Gowins) and Sheree were all there to witness Lawrence sing with one huge eyelash and his little hat cocked on his bald head (was he watching Ongina stylin' that hat on RuPaul's Drag Race last season??).
That hat is fierce… even if Ongina did it last year…
The wedding 'drama' begins two days before the wedding with Cynthia, talking with her sister, Malorie, and her mother, Barbara, about how her finances are depleted. Somehow it is up to Cynthia to come up with $3,000 today for the beverage bill at her wedding venue. On cue, a call comes in from Cynthia's father and she asks him for the $3,000.  He tells her that he doesn't have it, but if he hadn't spent like crazy this month, he would have given her the money, no problem.  Like, come on Dad… didn't he know that his daughter was getting married!?  Cynthia says that she's broke 'cause she gave Peter her money for his club.  Cynthia's mother and sister are not looking too kindly on Peter…
After being away from work for eight weeks, Phaedra has decided that it's time she gets back to the office.  She's enlisted her friend Melanie to watch baby Ayden while she's at work.
Phaedra actually looks like her maternal side has kicked in and she gives a little cry as she drives off to litigate for one of her 'nighttime entertainment' clients.
Kim goes over to Kandi's house to talk about the business side of the music biz.  Kandi tells Kim that she's going on tour with Fantasia (the brilliant Fantasia who told David Letterman that the movie was named after her, not the other way around…)  Kim thinks that as the artist she is entitled to more of the money, but it's all good, 'cause they're going to let Kim's attorney and Kandi's manager take care of the business side… kiss kiss…  and that takes care of that dangling thread.
Sheree is auditioning for a movie called "If These Hips Could Talk."  A movie title screaming out for Nene, not Sheree…but I digress… Sheree is surprised when she finds that there are a panel of people who will be watching and critiquing her audition.  One of the panelists gives Sheree some direction (several times) and Sheree gets into a little disagreement with her about how her part should be played.  As a seasoned thespian with an Oscar nomination, Sheree has every right to disagree with the producer of the movie that is going to pay her if she gets the part… yeah, Sheree, you just keep doin' that and we'll see you on the big screen… maybe when Dwight goes straight…
Yeah, go ahead and try to act, Sheree…
Nene's kid, Brice (Bryson) is still living with Nene in her eviction house and Nene has given him a list of his duties for the day.  Brice is under the impression that he can live there forever or at least until he gets on his feet… oh, Brice…Nene is never… oh, wait… camera Nene says that Brice can stay in her house until he gets on his feet.  So much for that 90-day limit on his stay…
Back to Cynthia's drawn out wedding… it's the morning of the wedding, and Cynthia's stylist, Kithe, is putting in his breakfast order in with Cynthia's mother who is cooking for everyone.  Kithe tells Cynthia that his car is right outside and there is still enough time to run…   Is Cynthia going to listen to Kithe?  Will she show up?  Who will blame her if she leaves Peter at the altar???  What will Cynthia do??  The wedding drama continues…
Cynthia needs some time to herself and walks to a nearby park.  Cynthia's mother, using her daughter-dar (radar) knows where Cynthia has gone and joins her in the park.  Even though she's not a fan of her future son-in-law, she tells Cynthia to use her good judgement as a 'strong, black woman' to make the decision whether to marry Peter. Really, what does being a 'strong black woman' have to do with using your brain or your intuition?  Oh, what will Cynthia decide???  Will she really marry Peter??
That t-shirt is trying to tell you something, Cynthia…
'Downstairs Gregg' and 'Upstairs Nene' sit down for a meeting about the state of their marriage.  They both agree that being a parent to their son, Brent, is of paramount importance if they go through with a divorce.   Gregg apologizes to Nene about his conversation with the radio DJ that was blasted all over the internet.  Nene isn't buyin' any of Gregg's lame apology, 'cause she's heard it too many times… Gregg keeps apologizing and Nene just doesn't want to hear it.  Gregg goes back down to his mancave lair and Nene goes upstairs to her lavish penthouse suite…
Sorry, Nene… now I gotta get back to my mancave downstairs…
Oh, poor Cynthia.. she finds out that pathetic Peter didn't get the wedding bands.  How are you expected to get married without the wedding bands?  Is this enough to make Cynthia think more about Kithe's suggestion of running?  Will she really go through with the wedding???  Oh, the drama!
Kim is lying in her bedroom on her chaise and is yelling in her hand mic for Sweetie.  Kim just had her boobs done and she needs Sweetie to help her up from the chaise.  As soon as Kim is vertical, she and Sweetie light up.  Kim is admiring her boob job and insists that… big drag on cig… Sweetie poke them to feel how 'real' they are.  'Oh, yeah, they're nice,'…big drag on cig… says Sweetie, agreeing with Kim.   Kim… big drag on cig… is getting ready, with Sweetie's help, to go to Cynthia's wedding.  Camera Kim says that Nene had a boob job, too, but not one as nice as hers, 'cause Nene's boobs are draggin' and 'you get what you pay for.'   Kim… big drag on cig… says that she's taking Kroy to the wedding to officially let everyone know that she and Kroy are a couple.  Kim, even though she loves the it, has taken off Big Poppa's ring 'cause she's serious about Kroy.  Kroy shows up; Kim's daughter's are very attached to Kroy and Kroy affectionately hugs them. If there was ever someone on RHOA that should run away from a wedding, it's Kroy… RUN, Kroy, RUN!!!
Getting ready for Cynthia's wedding..  big drag on cig…
Peter shows up at the dinosaur hall/wedding venue and obviously has been drinking… 'cause he tells the first person that he sees that 'he's all f***ed up!'   Cynthia is at the dinosaur hall/wedding venue getting her makeup and hair done, which seems like she's been doing all day, when the wedding officiator comes back to speak with her.  OMG! Another sign from God… the officiator tells Cynthia that in the state of Georgia you cannot get married without the wedding license…(yeaaaah… I'm pretty sure that's the way it goes in all 50 states.)  Cynthia says that she last saw the license (which, of course, pathetic Peter was supposed to take care of, but didn't) on the bulletin board in her house and she needs someone to go over there to retrieve it.  Well, isn't this somethin'… Cynthia's, sister and maid of honor, Malorie, and Cynthia's mother, Barbara, are chatting about whether to give Cynthia the wedding license that is in their possession. After some deliberation, they decide that they want Cynthia to be happy and if marrying Peter (even though they know it's gonna be a train wreck of a marriage) will make Cynthia happy, then they have to let her know that the license issue has been solved.
At the cocktail party before the wedding, all of the Atlanta housewives are there… Sheree brings Lawrence (wearing another of Ongina's hats), Phaedra's with Apollo, Kandi's solo, Nene (with big-time scammer, Giana Gowins), and Kim is on Kroy's arm.  Kim really thinks ahead… she brings her own wine to the wedding, 'cause if Cynthia's having money problems, she knows that the wine isn't gonna be her premium stuff…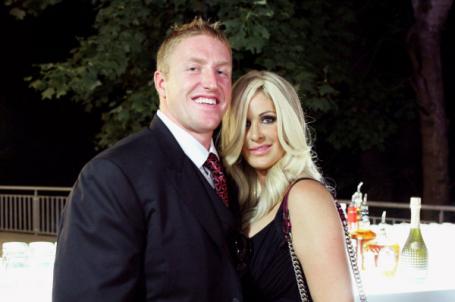 Kroy and Kim… we're keeping our fingers crossed for you, Kroy!!!
On to the wedding… finally!  Will Cynthia show up?  Will she actually walk down the aisle? Will she become Mrs. Peter Thomas?  Kim predicts that Cynthia and Peter will last a year and Nene thinks this is a true love story…  but who cares what they think… will Cynthia go through with marrying Peter or will she be a runaway bride???
After everyone takes their seats, the ceremony begins… Peter is escorted down the aisle by his best friend, Valerie, and waits at the altar.  Peter looks up at the top of the winding staircase, which everyone had to carefully navigate down from the cocktail party, and Cynthia isn't there. There's a dramatic pause… and then Cynthia appears.  She looks stunning in her platinum silver designer wedding dress and proceeds to manage down those stairs…  now the question isn't whether she will show up, but… how is she going to maneuver that huge dress down that staircase?  Will she or won't she trip on her voluminous dress on her way down the stairs?  How is she going to handle her orchid bouquet while stepping gingerly down a hundred steps down to the altar?  Will… she… trip?  Oh, we could only hope… stumbling over her dress and flying down those stairs would have made this super-sized finale worth watching, but no such luck.  Cynthia pulls out her modeling expertise and glides down the stairs.
Cynthia… no problem with the stairs…  (day-um…)
Peter and Cynthia are finally married… right under a big dinosaur leg… yay!!!  But, if anyone was following the Peter/Cynthia story in real time, we all know that they got married back in July 2010…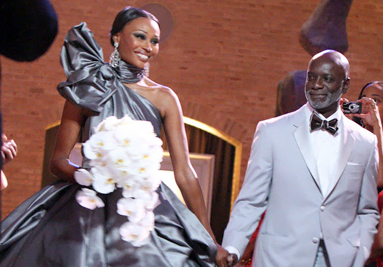 Cynthia Bailey and Peter Thomas… married… finally!
Now all we need for this season of the Real Housewives of Atlanta to be really, really over is for this question to be answered:  will Nene and Dwight make up?  The RHOA producers have saved the best 'til last… the Nene/Dwight storyline was so fierce, so scorching, so anticipated…  Will they ever speak to each other again?  Who will make the first move?  Will Nene do some bus moves on Dwight?? Dwight makes the first advance and asks that Nene speak with him privately.  They go over to a corner of the reception party, and they make up… Dwight even presents Nene with a beautiful orchid stem… which he pulled out from a water filled vase on the wall.   Nene is impressed that Dwight is so thoughtful….
This super-sized RHOA season three finale is over.  Kim and Big Poppa are done.  Kim is happy with Kroy and Kroy with Kim.  Nene and Gregg are still living separately in their house; Nene is considering a move to Los Angeles.  Sheree's audition apparently went well, as the producers told her that she got the part.  Kandi is optimistic that she will find her life partner; she wants another child. Phaedra is content with her marriage and baby. And… Cynthia and Peter were married.  All those loose ends tied up in a big RHOA finale that could have been cut down to 10 minutes… oh well…
Mr. and Mrs. Peter Thomas…