There is something up with the relationship between Kim Granatell (Kim G), part-time housewife on the Real Housewives of New Jersey, and Tom Murro, the 'Celebrity Magnet.'  I wrote about this previously on November 22 and I'm still intrigued…
Since my November post, Tom has written additonal items for his www.celebritymagnet.com site, including photos, re Kim G.
                                                Tom Murro, the 'Celebrity Magnet' and Kim Granatell… lookin' pretty happy
Since meeting Kim on July 15, 2010, Tom has posted ten items on his site, the CelebrityMagnet.
So, in five months, Tom has written two articles a month which include mention and/or photos of Kim G…there may be others that I've overlooked, but that's quite a bit for that length of time.
 Tom's wife, Kelly, Tom, Kim and Arlene Jessourian (?) … nice body language… Tom is leaning in toward KimGrannytell

Interestingly, October 14 was the first time Tom's wife, Kelly, was included in stories along with Kim.  I guess after three months of Kim G getting Tom's attention, Kelly finally jumped in.
"Tom Murro, the Celebrity Magnet, brought his lovely wife Kelly and the always interesting Kim G along to the event…" Well, we see Tom and Kim…
I am not the body language expert, Dr. Lillian Glass (http://drlillianglassbodylanguageblog.wordpress.com/), but I do recognize body language that blatantly shows romantic chemistry between two people. The top photo shows Tom and Kim clearly happy in each other's company, arms wrapped around and holding each other at the waist. The middle photo is the same as the first, but Tom's wife is included.  And the photo above shows Tom leaning into Kim, and she is comfortably relaxed with Tom…they are both happily smiling…again.
                                                       Photo of Tom Murro, da 'celebrity magnet' taken in Kim's house… body language shows da magnet being protective of KimGrannytell
AND…Kim G's tweets don't lie.  Back in August, Kim was really looking for some luv from Tom and he doesn't disappoint:
August 20:
John (Kim's son) fabulous apartment at U Of Ariz with beautiful furniture we bought today. on my way to Canyon Ranch tomo. Tom Murro wish u were here.
Canyon Ranch bound in Tucson AZ. The fiinest spa in the U.S. So happy to splurge & pamper myself. Not using other's money; it's all mine!!!
I am so loving my massage here… But Tom Murro you so do it better. What hands you have!! and thats not all!
August 21:
Massage & spa was incredible but not as incredible as the "Celebrity Magnet".
I talked about going to Grand Canyon. Tom, please surprise me!
Oh Tom surprised me here In AZ. Going to Grand Canyon on a private helicopter & not using anyone's money. Oh to be rich & not scam & phony!
Oh, Tom helicopter ride so so romantic!! What a wonderful time! I am loving your new Rolex & u of course.
Next stop, Martha' Vineyard. private jet back to NJ. Refueling & dropping Tom off in Martha's Vineyard 4 interviews with Pres. Obama tomo. see Boston Globe 08/19 online.
Oh… to live the high life, AZ, the spa, private jet, & Tom, OMG!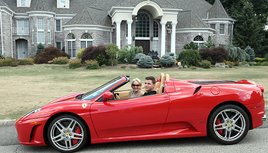 Tom Murro, the 'celebrity magnet,' crusin' in KimGrannytell's  Ferrari with KimGrannytell in passenger seat…
A comment on TMZ.com after a post re Kim G:
"Tom Murro has a website Celebrity Magnet. A 35 year old
Married, Father of girls under 10 years old who Kim Grannatell on her numerous tweets has indicated that she is presently in a torrid sexual relationship with this Lothario. She has tweeted that she has purchased as per his request a Rolex Watch and a Mercedes Benz SUV which she tweets are waiting for him with a red ribbon for his return from Martha's Vinyard where he had a 4 second interaction with Barack Obama. There are people in our town starting a campaign to hold our noses when we see Mrs. Grannatell or Tom Murro"     Posted at 12:16 AM on Sep 9, 2010 by MaryAnne
                                                     Tom, da magnet, and Kim in Kim's house
I know this is 'aging' news, but I really want to know what's been going on with these two. I wrote to Tom via his website, asking him some very pointed questions re his and Kim's relationship. I have yet to hear from him. This leads me to believe that they are still going strong, otherwise Tom would have replied to my email with a simple "we're done….or something to that effect."
SOOOO…. how does his wife, Kelly, feel about all this? Is she in on it with Tom to get whatever they (or she) can from Kim G?
WHAT'S GOING ON WITH THESE TWO???!!!!