There aren't too many celeb names for Kim and Kroy… I've narrowed it down to one:
Kim + Kroy = KRIM.
KRIM ARE PREGNANT!
This is somewhat old news, as I wrote about Kim's pregnancy on October 31, that's almost three weeks ago.  My guess is that Kim and Kroy wanted to grow their 'baby bump' a little bit bigger for the front-page photo 'exclusive' on L&S magazine.  Just last week, Kim was a guest of Andy Cohen on WWHL and she denied a direct question regarding her being pregnant.  Krim were probably under contract to Life and Style, but Kim could have played kinda dumb instead of denying her pregnancy. Whatever. Kim is definitely pregnant.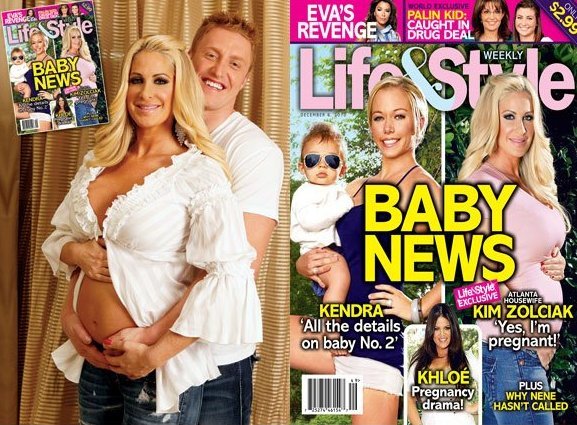 KIM ZOLCIAK and KROY BIERMANN
Kroy is 25 and Kim is at least 10 years older, even though every article I read about KimZ, her age changes. The last has her age as 31. (Kim, if you are 31, then I'm a tug boat captain!) Despite the age difference, they look very happy together and Kroy looks like a very lovable guy, so here's to hoping they have a lovely baby and great relationship.