Phaedra Parks of RHOA has made it clear that her baby is full term at seven months and if she requested, her doctor would have no problem performing a C-section because the baby is so developmentally advanced…at seven months.

PHAEDRA GETTING AN ULTRASOUND…
Phaedra's due date explanation made everyone in Atlanta do math in their heads, 'cause there is no way that an ethical physician would 'take a baby' at the seven month mark and there is no way that Phaedra is seven months along… if she grew any more, she would explode.
The Housewives are calling total BS on Phaedra and have figured that either Phaedra got knocked up before she got married or the baby isn't Apollo's or both.

PHAEDRA PREPARING HER PICKLES…
And the other RHOA suspect that Phadera is lying about the conception date – because she and her family are DEVOUT CHRISTIANS.
Well, MediaTakeOut.com spoke with an extememly reliable insider – one of Phaedra's family members, who helped explain to MTO the real story about Phaedra's due date (and lack of math skills).

PHAEDRA HOLDING APOLLO'S PICKLE…
The insider explained, "Phaedra had a difficult pregnancy. She nearly miscarried the child twice. Actually the day before she had the baby shower, she was admitted to the hospital, for bleeding."
MTO's insider continued, "Because of the difficult pregnancy there was talk (between the doctors and Phaedra) that she may have had to terminate the pregnancy (a late-term abortion) for health reasons. It can be done in the State of Georgia, but there's a huge stigma towards late term abortion. So, she figured that it would be better to just move up the date so that if tragedy struck, she wouldn't have all of America scrutinizing her decision."
So . . . there you have it! Phaedra's family member cleared up all the mystery and questions surrounding Phaedra's due date.

REALLY???….FOR REAL???…SERIOUSLY??? Nothing was cleared up!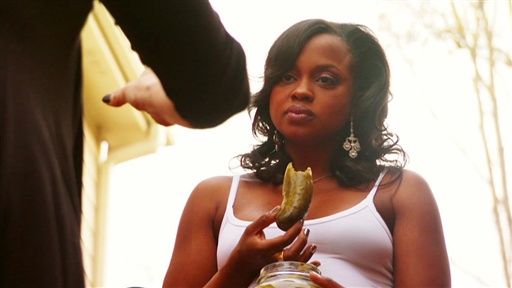 PHAEDRA'S FINGERTIP PICKLE GRIP…

HERE'S MY THEORY:   Perhaps Phaedra was using her attorney/client privilege to arrange very private meetings with Apollo. It's obvious that on the RHOA she is more than seven months…she's huge and she's going to have a FULL-TERM BABY. Phaedra was having some pickle pushin' in the pokey with Apollo… but who gonna check her, boo??? She could never say that, let alone admit to anything even close to that theory… her professional reputation would be ruined and as far as I know, she still has that going for her.

AND… if she were having a serious problem the day before her baby shower, enough of a problem that warrants a trip to the hospital, a medical professional (NOT Kim, but a REAL medical authority, OB/GYN…) would probably have advised her to be on bed rest from the day of her hospital visit until she delivers her child. A baby shower can be rearranged, but Phaedra proceeded with her fairy tale, ballerina baby shower the day after her visit to the ER for very serious symptoms.

AND…when a pregnant woman is asked her due date, it doesn't take blank stares or trying to do math in your head to answer. Once your doctor tells you your due date, that is just there on the tip of your tongue and on the edge of your brain, ready when you get the inevitable question, "When are you due?" The date just flies out of your brain and deposits itself on your vocal chords for a milisecond and directly out of your mouth. Phaedra, you are a smart woman, you should have known that during your pregnancy, someone was going to ask that question.



PHAEDRA… SEVEN MONTHS…

The baby will be arriving in BravoTime tomorrow night (he was born May 24 in real time) and we'll find out what Phaedra and Apollo have decided to name their baby boy.
I think Hercules would be appropriate.